The Time I Got a Tailor Made Suit
So last year my sister got married.
Obviously I was gloriously happy about the upcoming nuptials, however this did provide a couple of worrying questions that I would need answering.
Would I need to buy a wedding gift?
If so, how much would I need to spend on this mundane household appliance?
And finally, what on earth was I going to wear?
Now I'm not one of those guys who worry or plan their outfits months in advance, but if I were to outshine my sister on what was quite possibly the most important day of her life, I would have to do something particularly special.
It was actually my father (who I expected had a similar motive as I) who suggested that we bought matching, tailor made suits, even though it is not traditional for the father of the bride and the brother to match.
He had obviously figured out that, a bit like Ant and Dec, we would have a greater chance of being the main attraction if we worked as a team.
Not long after, my now partner in crime came to me suggesting that we had suits tailor made for us, naturally. After a quick ponder and half a Mars bar later, I agreed to this fantastically expensive idea.
After searching for all of five minutes, we eventually found a very well established tailors which we decided on purely based on reputation, price and how pervy the tailor looked.
The First Fitting
Now this was my first time having a tailor made suit and I had this image of myself being measured up with a brandy in a crystal glass in one hand and a cigar in the other, while shouting important messages to my secretary.
This dream was unfortunately far from the reality and not just because the smoking ban prohibits me from chomping on a Cuban in public places. Cigar, Cuban cigar…
I found myself standing at the front of this musky store, feeling slightly awkward as a man well over the average age of retirement measured my inside leg while staring a little too hard into my eyes.
Indeed, my main memory of this experience is of myself looking out the window and trying to remember car license plates, in a feeble attempt to ignore this man, who I now suspected to be Gollum, fumbling away with my precious.
Once our measurements had been taken we chose our fabric, which we decided should be a dark blue checked 100% Wollester material. It felt like a good mix between not too jazzy and not too boring.
If I was going to spend £800 on a suit, I want it to be one I can wear anytime and everywhere.
We then went into the finer details, like how many buttons and what buttons did we want. Single or double vents, pockets and type, inside lining material etc … There was so much to it and I was suddenly aware that I had not put as much thought into it as I perhaps should have.
I found myself as indecisive as when I am asked if I want a footlong sub and I'm not really that hungry.
Somehow between my father and I, we managed to answer all the questions. We were then ushered out the front door whilst being told to come back five weeks later for a second fitting.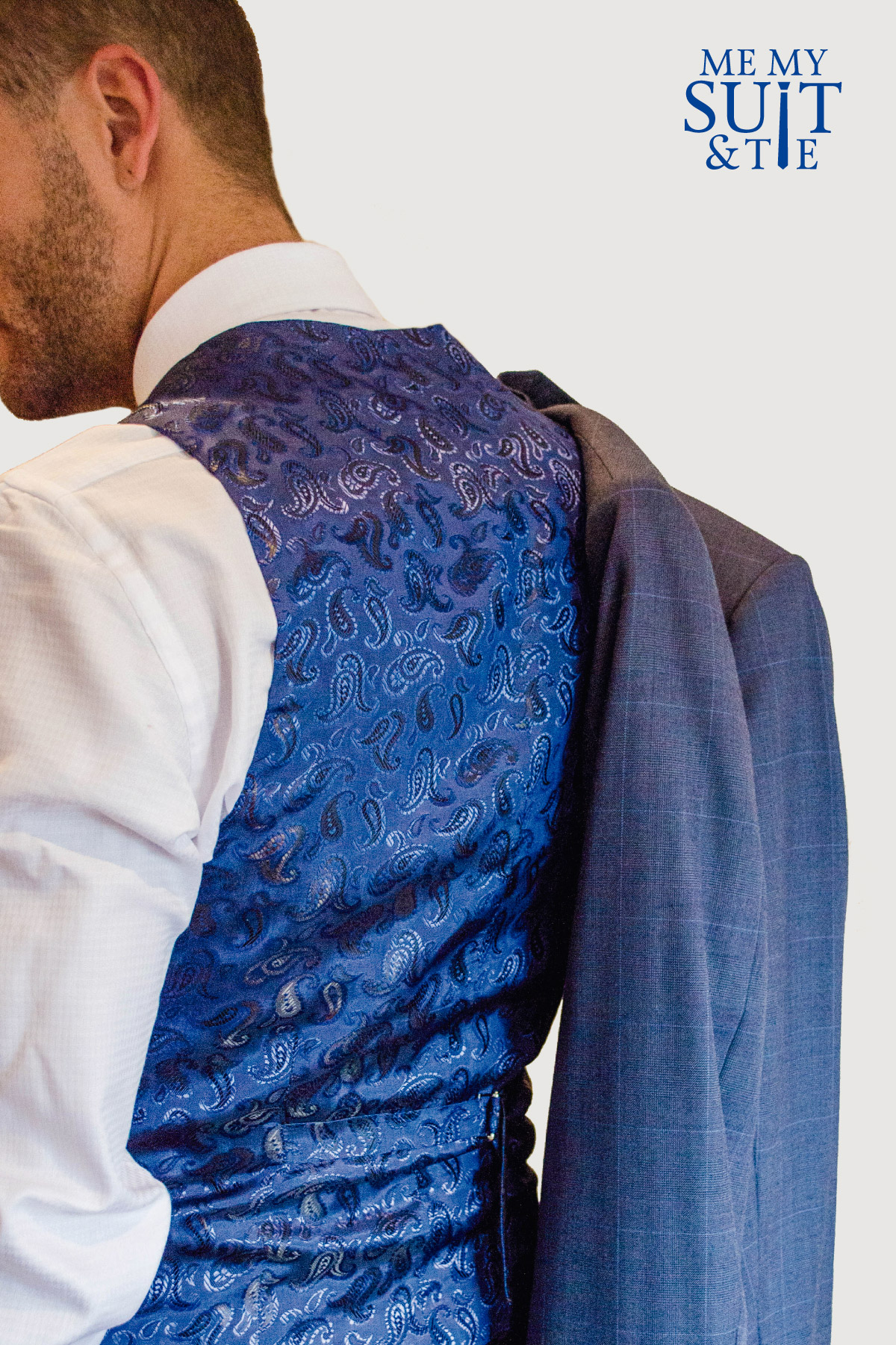 The Second Fitting
Five weeks passed with no word… I was starting to panic.
It was a lot of money, more than I had ever spent on an outfit before, but if it looked great and significantly overshadowed the bride - I would be happy.
The second visit to the tailor turned out to be inconclusive. For me the most important factor with a suit is the fit. It has to fit well and as this was the second fitting, there was still quite a lot of work to be done.
In fact, more work than I expected considering all the groping/measuring that had gone on before. I have since been assured that this is normal.
I was however able to try on my suit for the first time and I was happy with the material. The colour and pattern looked great, perfect for a wedding or the office. I would definitely get my money's worth out of this suit. We then pinned the suit some more.
I decided that I wanted the trousers slightly tighter, and the jacket slightly shorter and taken in an extra inch around the waist. We were then told to come back in a few weeks to collect the finished suit.
Three Weeks Later
So we went back three weeks later, which was now getting perilously close to our my sister's big day. The suit was housed inside a quality suit bag, with the name of the tailors beautifully printed in gold. I knew this was a special moment as I opened the bag to reveal the finished suit made for me.
I remembered again how much I liked the colour and the inside lining, which was a dark blue Paisley that caught the light perfectly. However, as I stood in front of the mirror I was surprisingly confused with the fit.
You see the fit was okay but not great, not perfect which is what I would expect from an £800 tailor made suit and by this point we only had one week before my sister's wedding.
The waist was okay and the shoulders fit fine but whether the jacket was still slightly too long or the arms slightly wider than I wanted, I just wasn't blown away.
I obviously reacted like any decent Englishman and thanked the tailor, paid him for his time and took my averagely fitting, overpriced suit home.
We decided to go for a crisp white shirt and a pink and orange tie respectively. Brown shoes, which are highlighted in our blog why smart shoes are essential to completing a suit, finished the look and I even wore my gold aviator sunglasses as the cherry on top.
Make no mistake, my father and I looked great and although we didn't in fact manage to outshine my sister on the day, who looked annoyingly beautiful, we were happy with our efforts.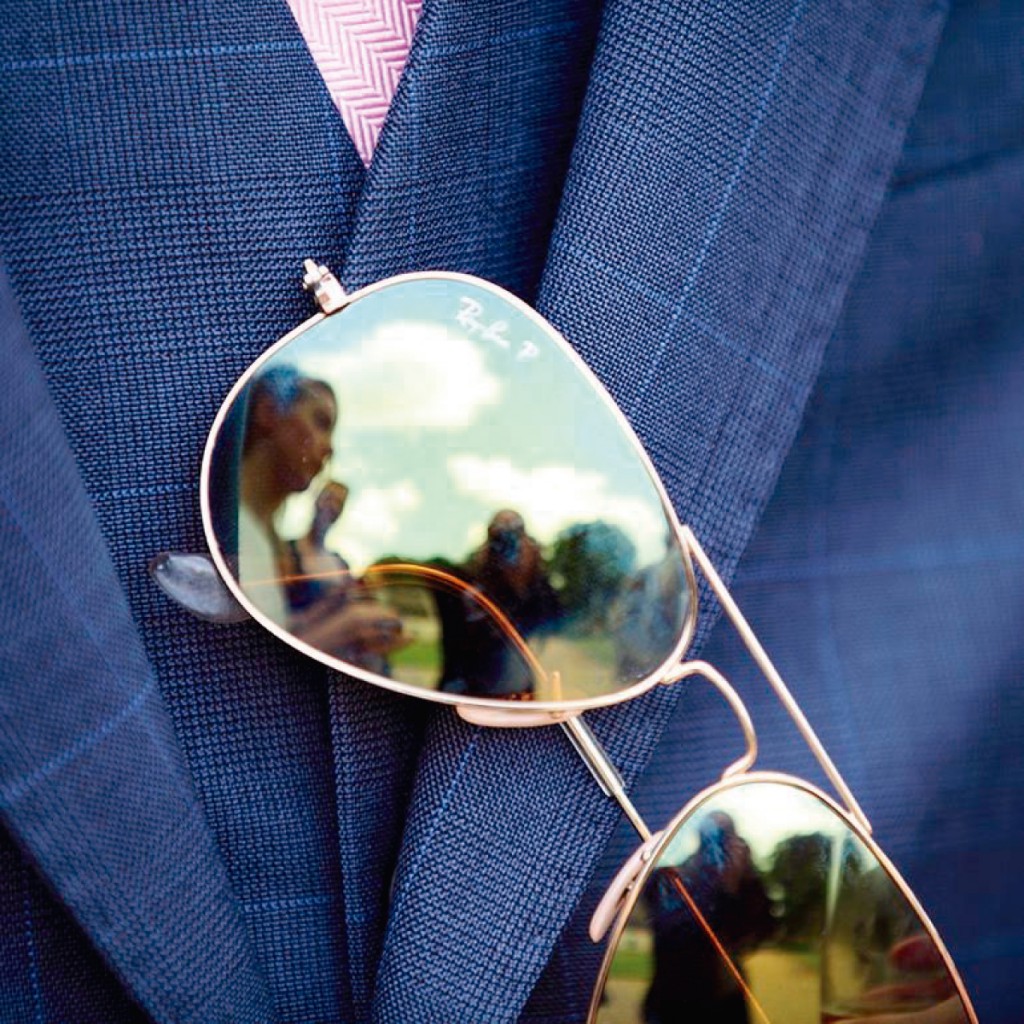 Was It Worth It?
I am not complaining or regretting buying my suit. The whole tailoring process, apart from being slightly closer to the prison showers than I would have liked, was enjoyable and it is also really wonderful to know that I own a one off, unique suit with my father.
I am not going to bump into someone in the office or at the races wearing the same suit, which makes me feel important (which is the desired effect). However, and I think this is my main issue.
So how do I feel about the whole process? Every man should own a great fitted suit. Having a unique, well-fitted suit of high quality that should last you for many years is a great investment.
I have off the rack suit jackets or blazers at home in my wardrobe that fit me better … maybe because they have a slimmer more modern fit, which is more my style at the moment.
I guess I possibly feel the difference between those and my tailor made suit is not necessarily worth the price. Although, I also know that fashion changes and maybe having a more classically fitting suit is a better investment in the long run.
So how do I feel about the whole process? Every man should own a great fitted suit. I am lucky that I can fit into off the peg suits so the need for me to have one made isn't so strong.
If you are one of those guys who struggles to find an off the rack suit to fit you then yes I would strongly encourage you to spend a bit more and get one made to you. Following the rules as summarised in our 10 tips for getting the best out of your suit will also ensure you look as sharp as possible.
Having a unique, well-fitted suit of high quality that should last you for many years is a great investment. Also don't try to upstage your sister on the most important day of her life… its not nice apparently.